Message

Today, China and other Asian countries are rapidly gaining know-how in manufacturing. Hence the role of Japan, which has led the rest of the world in manufacturing, is going to change significantly.
Technology transfer is speeding up and enhanced information technology is helping those countries to access the latest technology. It is inevitable that every manufacturer will be exposed to global competition, the pressure to cut down on costs will increase, and many labor-intensive industries will find new homes in countries where labor costs are significantly lower.
On the other hand, however, the number of companies involved in manufacturing is growing throughout the world. Shinko Seiki has been working closely with many advanced machinery and materials suppliers internationally as a supplier of manufacturing equipment and components utilizing its unique "Vacuum Technology", This is the key technology supporting many cutting-edge companies in the semi-conductor and precision electronic component industries.
In other words, our manufacturing equipment and components have helped those customers to reduce their costs, improve their product quality, and add extra value to their businesses.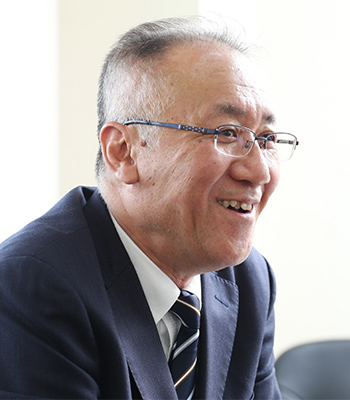 Advanced Manufacturing with Higher Added-Values
The field of production engineering is an area where precision and efficiency could continue to improve if we keep on investing in R&D activities. For that to happen, we must ensure that the know-how and expertise is to be passed on to younger generations and further enhanced. Everybody at Shinko Seiki should be aggressive in improving his/her skills, acquiring knowledge, and adapting to ever-changing, diverse technologies.
Whether in Japan or overseas, no manufacturer can survive the competition unless it continues to work hard to enhance its expertise and product quality while reducing costs. One must know that, for any company in an advanced industry, today's circumstances make it difficult to continue these efforts without outside help.
In our day to day operations, technologies are enhanced and ideas are implemented by individuals as policy.
Coordinating individuals' efforts in manufacturing and development, while ensuring each individual will passionately play his/her role and acquire new skills and knowledge, cannot be accomplished without the broadness and depth of related technologies, in addition to the latest technology. In this sense, we still have a competitive edge and it is clear what must be done.
An Engineering Oriented Company, Always Needed
Even in "Vacuum Technology", one of the core technologies of our business, we find an increased number of imported products for relatively simple vacuum pumps due to the low manufacturing cost in some countries. This being said, our products still have overwhelming advantages in terms of durability, operational stability, and manufacturing precision.
We do not simply sell vacuum pumps. Our customers need our experiences and multi-faceted expertise to utilize our pumps in their manufacturing equipment, and improve the quality and reduce the cost of products manufactured with those devices. Thus it is safe to say that our role will not diminish, but that it is more likely that the company will hold a unique position in the industry for the services we provide.
Shinko Seiki is determined to hold our position as a company that can meet high requirements from our customers in the development of new, up-to-date technologies utilizing "Vacuum Technology".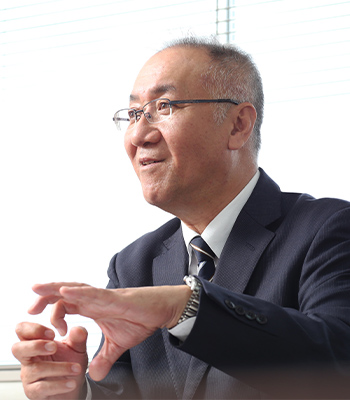 The Future has No limit
I am convinced that the ability to conceive and spread new ideas will be critical for the future of Shinko Seiki.
There is a broad area of application for "Vacuum Technology" including new technologies that are yet to be developed. A thermos is a good example of using vacuum. By creating a vacuum space separated by two glass layers, we can improve heat insulation, thereby increasing the thermal efficiency.
It will also help the cause of environmental preservation. The work "vacuum" also reminds us of outer space. "Vacuum Technology" is used in space development programs to test heat insulation and the fuel tanks of rockets and to create experimental environments. Closer to home, the final process in a FPD production line uses our "Vacuum Technology", as well as other technologies to control conveyers and temperature. Other applications of "Vacuum Technology" include bio-technology, fuel cells, and solar cells.
"Vacuum Technology" is also critical in plating and coating materials as indicated by the term "vacuum plating".
Coating technology for automobile engine parts with diamond-like carbon will change the parts hardness and smoothness to improve fuel efficiency. Non-clouding glasses and window panes that do not require cleaning are produced by coating special materials on glass panels. These are just a few examples of using "Vacuum Technology" to enhance the performance or change the properties of materials.
"Optics" is another key technology for the company's business. Optics applied measuring devices are used in the production of dies for hybrid automobile parts, which demand the highest manufacturing precision possible, inspection of contact lenses, and production of medical devices such as those used for testing field of vision.
Developing new manufacturing equipment and expanding the business into the medical field, which is rather new to the company, requires imagination and new ideas. Since we are planning to undertake new projects spanning diverse application fields, it is necessary to coordinate our efforts with various specialists in each field in order to develop new materials and devices. If such undertakings will yield solutions for energy or environmental issues, or cure diseases and save lives, it would be great.
To coordinate such an effort, first we will need to implement a communication infrastructure for broadcasting the information we have and interacting with a number of people. At the same time, we need to have flexible imagination to come up with new ideas and an ability to implement such ideas.